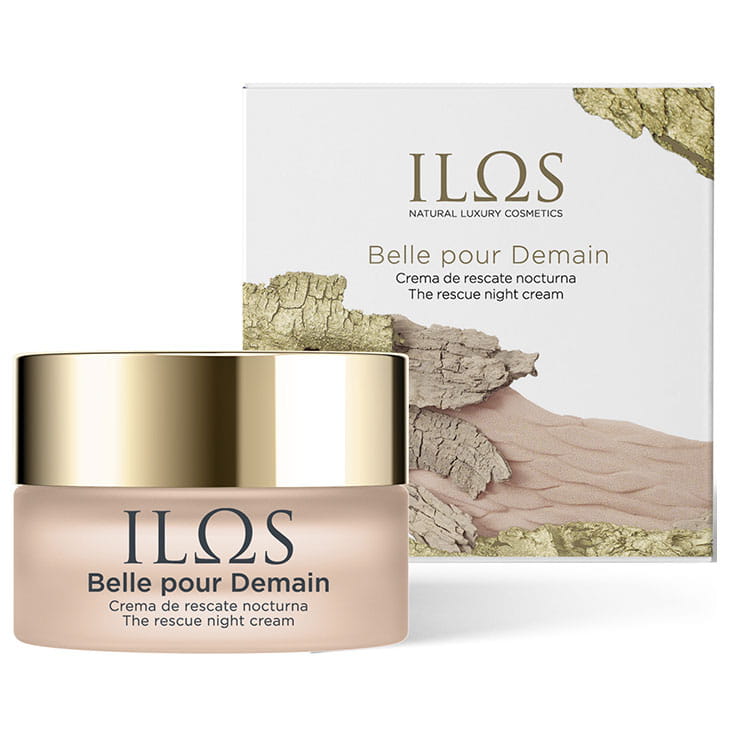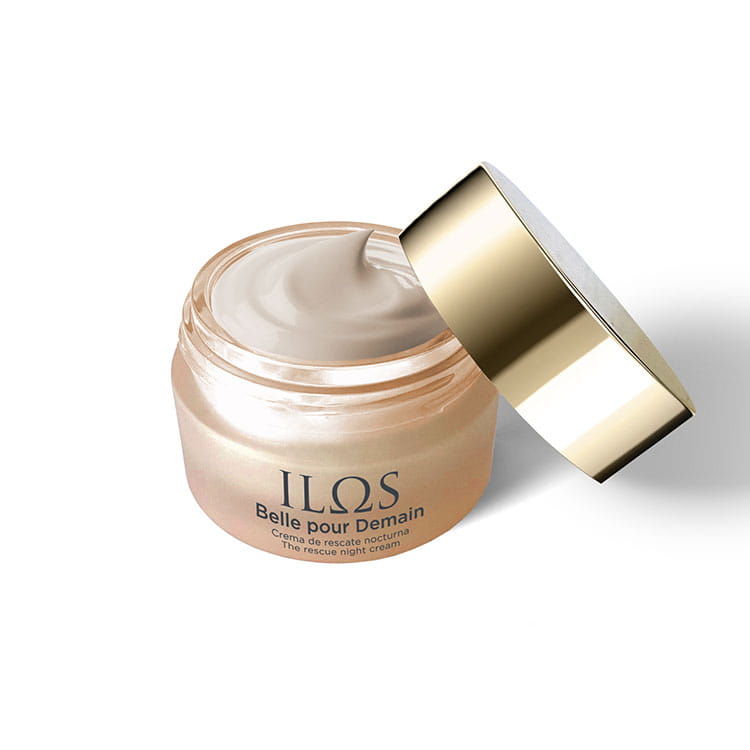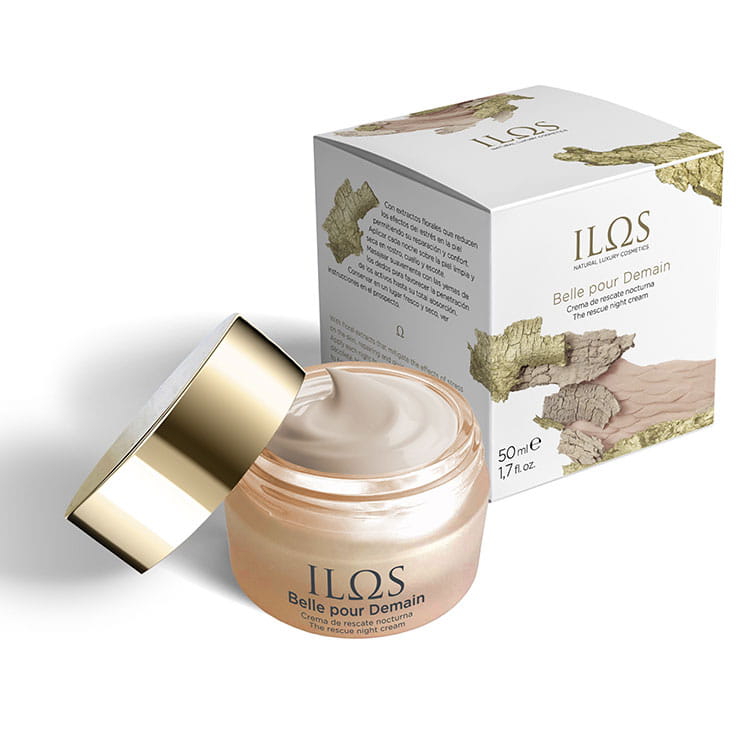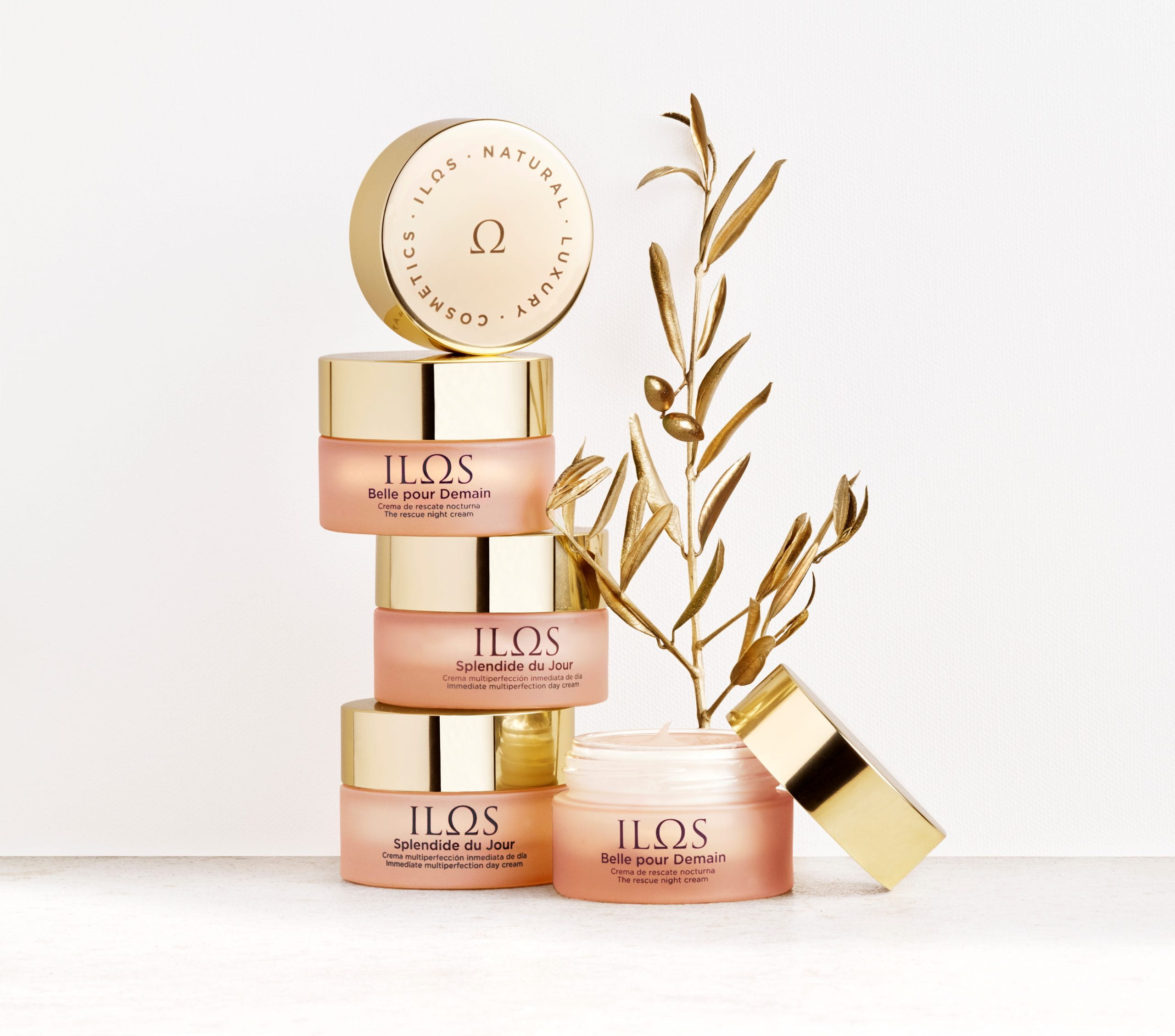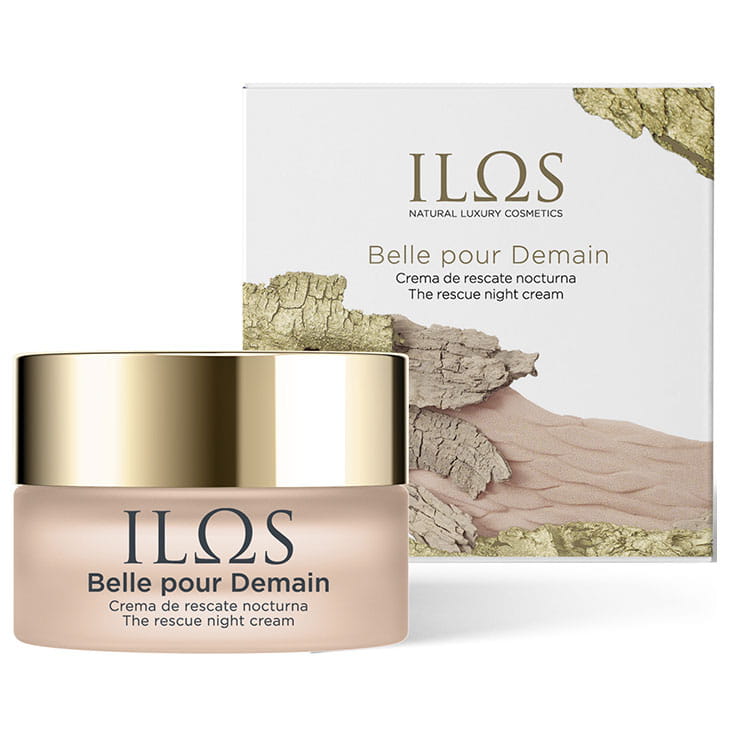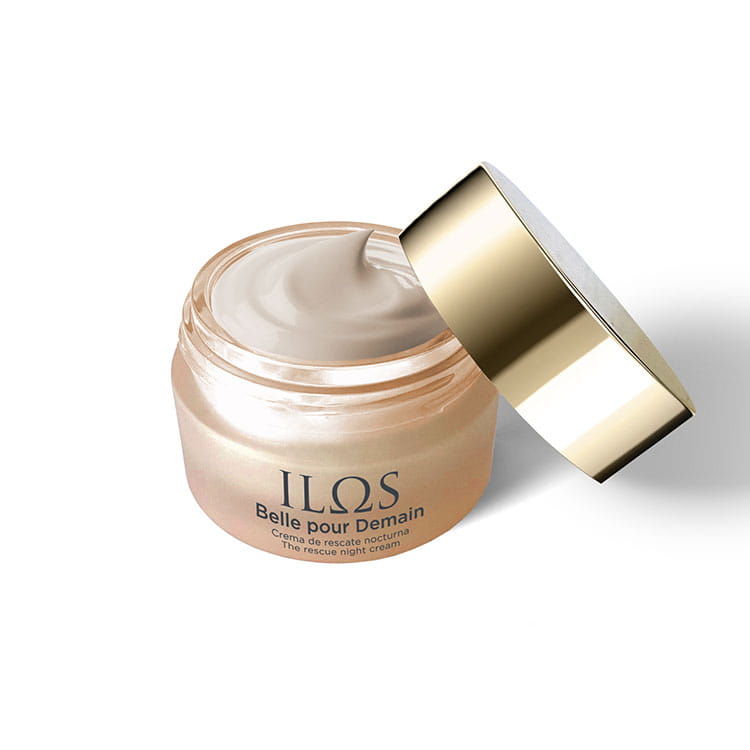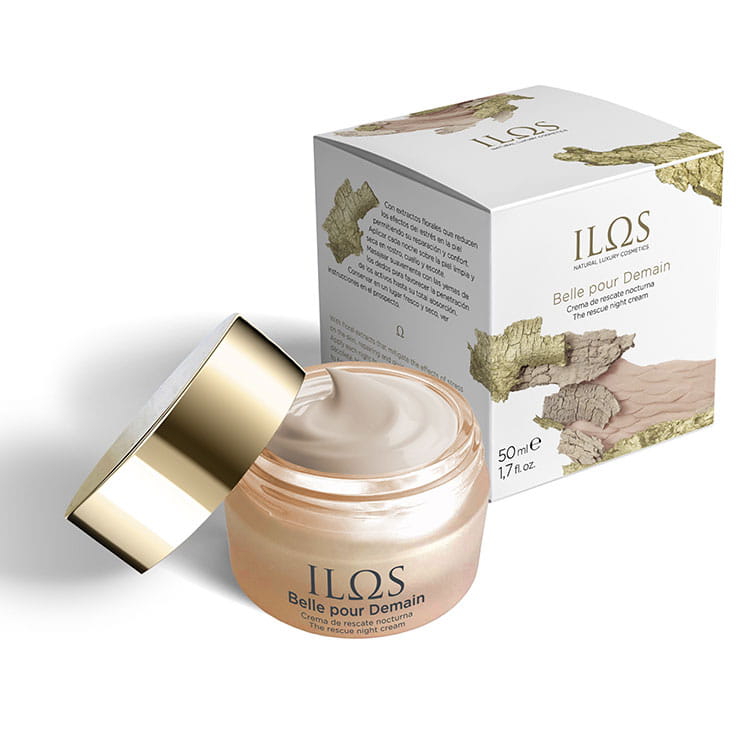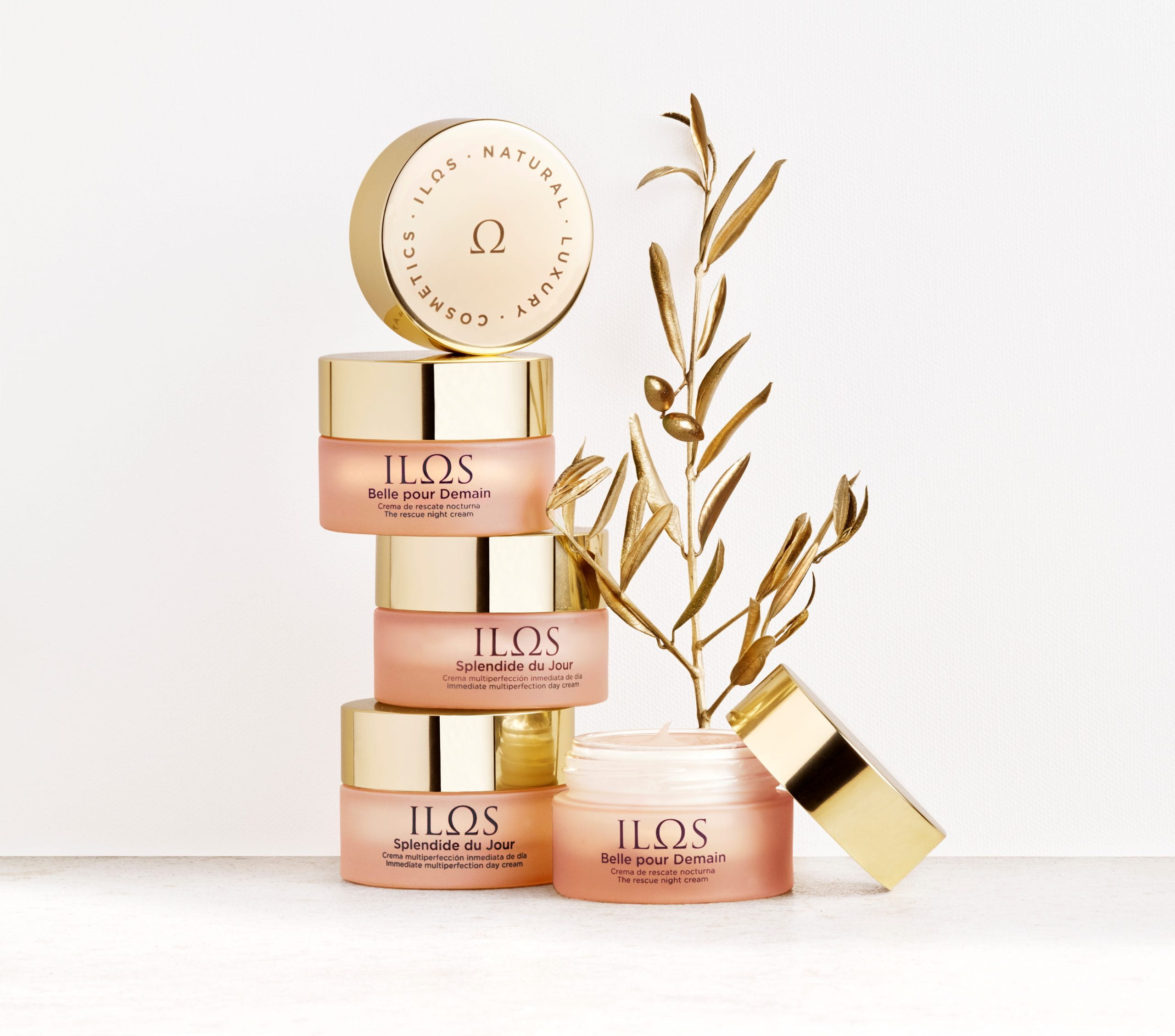 Belle pour Demain
The rescue night cream
99% natural origin ingredients
Suitable for all skin types
50ml / 1,7 fl.oz.
120.00€
No added shipping costs
DESCRIPTION
Probably one of the best night creams out there.
With age comes oxidation. The fast-paced city life, pollution, aggressive sun rays and blue light coming from all screens make our skin deteriorate progressively. On top of that, the cells in our body responsible for its reparation slow down. The cells in charge of producing collagen, elastin and other structural tightening factors stop working and therefore are incapable of taking our skin back to square one. Nighttime is the perfect biological moment for reparation. It is crucial to help our skin every night to repair the damage we've inflicted upon it by reactivating our cells in charge of damage control.
FORMULA
Belle pour Demain has been specially formulated to rejuvenate the cells and give the skin a more youthful feel.
With Ilos Redensifier (patented) and its genetic and epigenetic action, damaged cells regain their balance and therefore increase the production of collagen, elastin, hyaluronic acid and other tightening proteins. As a direct consequence, our skin will increase in density, elasticity and firmness. The olive Silvestris mother cells reactivate energetically the cells. This effect is visible through a significant reduction of wrinkles and an improvement in texture. Ilos Antiox and the Helichistum extract, have been added to slow down the daily deterioration in all fronts (stress and oxidation) and smoothen out skin marks caused by photo-ageing.
Finally, and thanks to the biologic olive oil, we get a deeply nourishing action which is key to maintain the hydration levels up and repair the skin barrier function.
Well-being and comfort are simply a part of the process thanks to the Helichistum extract with neuro-cosmetic action and to the soothing and fragrant fig tree leaf essence.
Maximum overnight renewal power.
99% natural origin ingredients in accordance with international standard ISO 16128

Suitebale for all skin types. Dermatologically tested.
Animal friendly.
COMPOSITION
Aqua (Water), Dodecane, Cetaryl Alcohol, Olive Oil Polyglyceryl-6-Esters, C10-18 Triglycerides, Coco-Caprylate/Caprate, Caprylic(Capric/Myristic/Stearic Triglyceride, Butyrospermum Parkii (Shea) Butter, Sodium Stearoyl Lactylate, Aluminum Starch Octenylsuccinate, Betaine, Olea Europaea (Olive) Oil Unsaponifiables, Olea Europaea (Olive) Fruit Oil, Olea Europaea (Olive) Leaf Extract, Olea Euroaea (Olive) Fruit Extract, Helichrysum Italicum Extract, Glycerin, Parfum (Fragance), Sodium Levulinate, Xanthan Gum, Phenylpropanol, Lactic Acid, Caprylyl Glycol, Ci 4290 (Fdc Blue No. 1), Potassium Sorbate, Ci 16035 (Fdc Red No. 40), Propanediol, Sorbitol, Hydrogenated Olive Oil Unsaponifiables, Lecithin, Sodium Phytate, Ci 19140 (Fdc Yellow No. 5), Citric Acid, Cyamopsis Tetragonoloba (Guar) Gum, Tocopherol, Hexyl Cinnamal, Coumarin, Limonene, Linalool
INGREDIENTS
Olive Silvestris mother cells: Silvestris
Cellular oil which sparks up the energy found in cells, thereby recuperating vitality and youthfulness. As a direct consequence, wrinkles blur out and skin improves its texture, thickness and hydration levels.
Ilos Rerdensifier
Patented densifying compound, with genetics and epigenetic activity favouring cells rejuvenation and stimulating collagen production and improving your skins elasticity, density and firmness.
Ilos Antiox
The most potent antioxidant found in the olive tree and one of the most powerful in the world. Protects the dermis and cells, anti-marks action patented illuminator and sun repairer.
Helichrysum Italicum aromatic extract
Neuro-cosmetic enhancer of well-being. Gives an immediate soothing effect. Helps to compensate for all stress-related skin damage. Re-builds the skin barrier.
Biological olive oil
Rich in fatty acids, nurtures in depth.
Fig tree leaf essence
The soothing and full-surrounding fragrance of the fig tree goes hand in hand with the overnight beauty sleep.
BENEFITS
The actives in this formula have a tested efficiency in:
Nutrition, antiox repairment, cell rejuvenation, cell energy, re-densification of skin, anti marks illuminator, hydrolipidic barrier restoration, hydrating, soothing and anti-inflammatory.
VISIBLE RESULTS
Probably one of the best night creams out there:
I will repeat the treatment: 100%
Better quality than most night creams: 90%
I like it, it is rich and of 100% quality
Immediate noticeable results
More nourished and hydrated skin
Noticeable results after 1 day
More nourished and hydrated skin
More supple and plump skin
Noticeable results after 1 month
Comfortable, better-looking skin
*Clinical test with dermatological control performed on 20 women between 40 and 70.

HOW TO USE
Apply directly
Apply every evening to clean, dry skin on the face, neck and neckline. Massage gently with fingertips to help the penetration of the active ingredients until the cream is totally absorbed.

Extra – nutrition
To boost the nourishing-hydrating effect, add a couple of drops of Elixir de Nuage when applying the cream to the face.

Anti-pollution plus
We encourage the blended action of our bi-phase Tout en 2 cleaner, specifically formulated to erase all sorts of harmful particles, and our Belle pour Demain, rich in antiox to slow down all pollution damage and to start the night reparation phase.

This cream comes 99% from natural origins, it should be stored in a fresh and dry place.

RECICLE

All of our packagings are made of easily recyclable elements.